The Tower of Power Brings still thrives in the Oakland Zone
Written by Rich Monetti on March 31, 2020
Emilio Castillo Discusses the Band's long History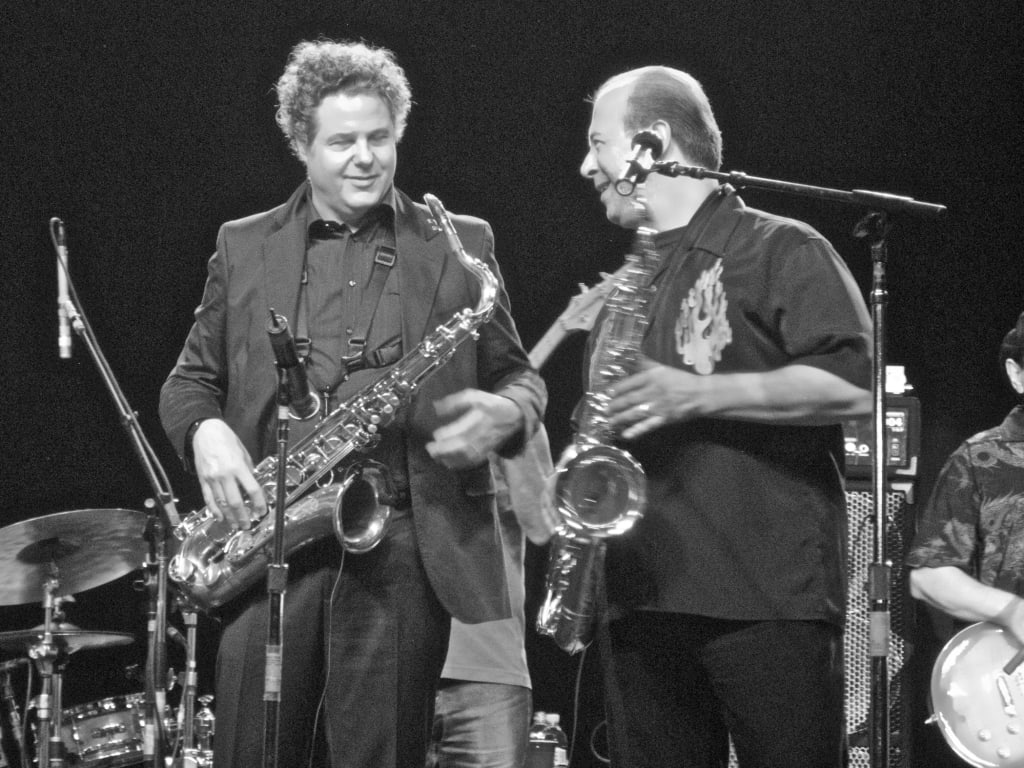 Photo credit: Daniel Augustine
Tower of Power first grooved into what they called, the Oakland Zone in the late 60's. Meaning everything was clicking onstage in a San Francisco scene that was the place to be in the world, according to band leader Emilio Castillo. Up to the challenge among the likes of the Grateful Dead, Jefferson Airplane and Quicksilver, the 10 member horn centric funk band was actually too young to hit the scene due to alcohol laws. Their inception was even more inauspicious.
"We did it backwards. We started a band and then learned to play," said Castillo.
At home, he and his brother got a start because his dad decided they needed something to keep them out of trouble. "So me and my brother said we wanted to play music," Castillo remembered.
Then they all went to a music store and chose their weapons. "Because I used to see some of the shows where my father bartended, I thought the sax was pretty cool. I pointed to the sax, my brother chose the drums, and we started the band," he said.
Things continued to coalesce, and they became the Motowns. "Seven of those original guys became Tower of Power, then we got Doc and went from there," he revealed.
San Franciso their stop, Tower of Power's maturation was in sync with a scene ready to explode. "It was perfect timing. The psychedelic movement was on the tail end, and Bill Graham of the Fillmore Auditorium was upping the collective ear of the bay area. He'd bring in Quicksilver one night, Miles Davis the next and maybe Tito Fuentes after that. This left people open to new songs. We came in with all the horns and soul, and it just hit big time, beamed Castillo.
On the other hand, the tagline did go across the bay. "The Oakland Zone occurs when everything is clicking, and the audience is really bringing the energy," he said. "It makes it all really easy to give the energy back. The whole process just becomes effortless, and I just love it."
Still, with all the bands flying in from all over to book auditions with Bill Graham, the competition was stiff. Their youth didn't do them any favors either because of the age and alcohol restriction to play the Fillmore.
The band used the obstacle to their advantage nonetheless, and the Tower had the last laugh. "All we did was rehearse for seven months, and with all these more established bands around, he signed us. We were nobodies, and that's when everything changed for us," said Castillo
The hits at first were kept close to home, though. "Our first album had a regional hits like Sparkling in the Sand. But none were national because the album wasn't in the stores," he said.
Eventually, a larger platform emerged. "Our second album gave us our first hit in a ballad called, Down to the Night Club, and the third album returned So very Hard to Go, said Castillo.
Even so, the party in San Francisco party took its toll. "We made our mistakes, suffered the consequences, got right with God and started living right. We were fortunate because we always made the music to please ourselves. It was really easy to work everyday, and no matter how your career was going, we always loved the music that we made. So once we started living right, it was still a lot of fun, and we've been going strong for 45 years," Castillo asserted.
Living right, though, isn't necessarily conducive to the creative process. "I think there were times when drugs helped us trip out and do some interesting things. So we were a little concerned about it when we cleaned up," he said.
As it turned out, their fears were unfounded. "We figured out that we were quite capable of using the talents that God gave us in a way that was pretty amazing, and that we didn't need drugs to do what we did," Castillo said.
Unfortunately, after about a decade, times began to change. "Disco had run its course. People were basically bummed out about music. That's when all the new age and punk groups were happening, and the industry got real fickle. Anybody who was around for more than five years were considered a dinosaur, and they wrote us off," Castillo lamented
On the other hand, enough good will had been built to keep them going. "We had a lot of friends in the industry like Huey Lewis who took us out on tour as their horn section, and then they would play with us after on our set. David Letterman also liked us, and we made 16 appearances on the show. We haven't sold records like Mariah Carey or Michael Jackson. But we have a very large fan base, and it's been a good long career," said Castillo.
Initially, the band changed its tune to remain viable with all the uncertainty. "We were signed by CBS, and they gave us a lot of money. Their approach was Tower of Power is a problem. How are you going to solve it. The feeling was, can you guys sound like something else or can you redirect to disco like these other bands. Then we can give you some air play. So when someone is giving all that money, you want to do a good job for them," said Castillo
In the end, the guys realized the only way was to leave well enough alone. "We tried all their suggestions, but what always happened was we still sounded like Tower of Power. We finally realized if we're not going to sell records, let's at least play what we play. We went back to making music that's true to our name," said Castillo.
The song writing process has mostly remained the same, though. "We get everyone together from all over the country, we go with our ideas, and then it's like going fishing. You have a clever hook, and once you get something, you keep reeling it in. Two or three hours later, you go home," said Castillo.
It's just a little more low key now. "Back then, We were all living together, a party would start, getting high, girls and a piano – yeah, it was different," he joked.
All the years gone by, Castillo has never given much thought to what the music has meant to him, but he's certain of one thing. "I just know I love it," he concluded.
Please Like My Page on Facebook
Author can be reached at rmonetti@aol.com
---
Reader's opinions
---